Spinal Adjustments for Atlanta Auto Accident Injury Pain Management
If you have recently been in an auto accident, it is not uncommon to experience pain and stiffness in the neck, shoulders and back. Unfortunately, this pain will not simply "go away" over time. In fact, without proactive care, the pain may become even worse and have a serious, debilitating effect on your life. Whether you are experiencing acute pain from a sudden, unexpected jolt in the accident or chronic pain due to a whiplash injury, spinal adjustments can help. Our Atlanta Chiropractor Dr. Jared Simon has decades of experience treating patients just like you for acute and chronic car accident injuries. Our integrated approach to auto injury treatment combines the most advanced spinal adjustment techniques with proven complementary therapies for maximum pain relief and healing.
What to Do After a Car Accident Injury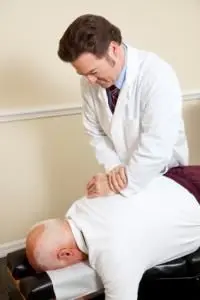 The first step towards successful auto accident injury treatment is to identify the root cause for your pain. For most patients, this starts with a comprehensive diagnostic exam. Our goal is to precisely and accurately identify the location of spinal subluxations that may be causing your pain. For example, the force of a rear impact accident can "whip" the cervical spine out of normal alignment, triggering chronic neck pain. Other auto injuries include acute back pain for a sudden jerk or movement, as well as chronic back pain from a slipped or herniated disc.
If a spinal misalignment is the cause of your back or neck pain; spinal adjustments can help. For acute pain, for example, your car accident injury treatment may be a serious of manual adjustments that manipulate the affected joints with using a controlled force. This manipulation helps to restore a fuller range of motion while alleviate pain. If your chronic pain is due to a slipped or herniated disc, our Atlanta chiropractor will perform a serious of spinal adjustments to alleviate this nerve compression. Since chronic pain does not go away on its own, you may need a series of periodic treatments for several weeks or months in order to attain maximum pain relief. Additionally, we may recommend complementary therapies in order to enhance pain relief and restore a fuller range of mobility.
Whiplash injuries can be especially frustrating for our patients. Chronic neck pain can affect every aspect of your life, making it difficult to focus on work, sit or stand comfortably for extended periods, or even sleep through the night. Spinal adjustments are the first step to restoring correct curvature to the cervical spine. We recommend complementary physiotherapy exercises to enhance pain relief.
You do not have to live with chronic or acute auto accident injury pain. There is a way out! A diagnostic appointment is the first step to determining the cause for your pain and taking the necessary steps to be healthy, active and pain-free. Do not suffer in pain longer than you need to. Take the first step towards better health today: call our Atlanta chiropractor at 404-634-1669.